Guardian (Thermal/Burn Box)
The Guardian series is the industry standard for reliable thermal oxidation and combustion of post chamber and cabinet vented process gases. The Guardian utilizes active flame oxidation as the effluent gases pass through a wall of flame in the main chamber, and therefore guaranteeing ignition of all flammable and pyrophoric gas by products.
Two sizes of unit are available to meet your requirements. The Guardian GS4 has a 4″ (100mm) reaction chamber and the GS8 unit has a larger capacity 8″ (200mm) reactor. Both unit types can have custom entry heads to handle a mixture of 1/2″ VCR, KF40 or KF50 process inlets.
Simultaneous treatment for multiple process chambers and/or furnace tubes
Low cost of ownership
No electrically heated elements for immediate cool down
Flame Flashback protection for safe, reliable operation
Natural gas or H2 fuelled
No moving parts
Very low maintenance requirement
MTBF measured in years
SEMI S2 and CE compliant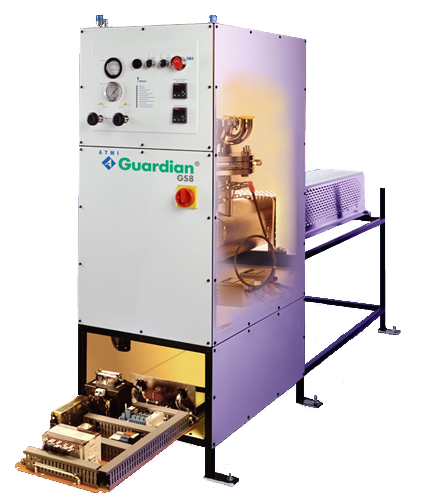 Applications
Polysilicon
CVD
Pyrophoric/Flammable gas combustion
Gas Cabinet vent purge